2,4-DICHLORO BENZYL CHLORIDE (CAS:94-99-5)

2,4-DICHLORO BENZYL CHLORIDE 99%min (CAS:94-99-5)
File Download:(Ⅰ)COA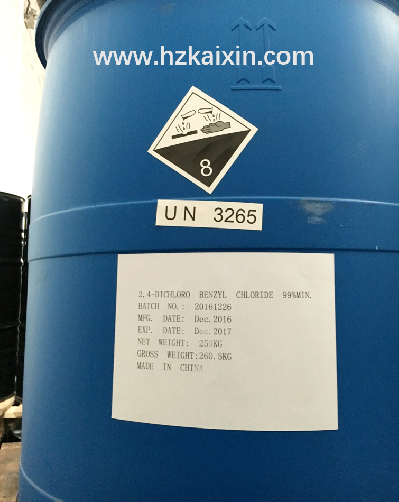 Feature:
High production capacity,stable quality
Packing and Delivery:
250kg/plastic drum
Partership:
Authorized Distributor/ Exporter since 2010

Plant Details:
Founded in 2009, Ningbo Acry Chemical Co.,Ltd., is an ISO9000 certificated company, which is located in Ningbo. The production method is microbiological process to Acrylonitrile, improves the biotech origin from Japan by Tsinghua University. They have 2 production lines whose total max capacity is 40000mt annually. The factory is one of the biggest manufacturers for acrylamide in China. The conversion ratio is 99.99% now so that they makes Acrylamide of good quality. And they are friendly to environment.
FAQ:
1. What is its main application?

Used to prepare diclobutrazol, 2,4-dichlorobenzyl alcohol, 2,4-Dichlorobenzaldehyde, 2,4-dichlorophenylacetonitrile, 2,4-dichlorobenzoic acid, 2,4-dichlorobenzoyl chloride.
2. How many years we produced it, and what is its capacity?
It produced since 2009.And enlarge capacity to 15000mt annually since 2009.

3. What is plant location and nearest port?
It located in a chemical zone Ningbo province, and nearest port is Ningbo port.

4. If document Support and audit available?
Yes, VQ and allied tech. package is available for serious client. Audit could be accepted for clients having business more than 1year.

5. What other products are producing or plan to produce in this plant?
The factory also manufacture

Acrylamide of good quality.
Contact us:

Email:kaixin@hzkaixin.com
Whatsapp/botim:008613336062322
Specification
Feature&Application
Plant Details
FAQ